Featured Image: Blizzard Granite Kitchen Countertop from Arizona Tile
When making planes to renovate their kitchens, many homeowners are facing a daunting question — are granite countertops outdated? That solid black granite slab is a familiar sight to anyone, and this dated visual may put some homeowners off from choosing granite as their countertop material. Granite has gone through a modernization, however. The granite countertop options available today are fresh, stylish, and perfect for a contemporary kitchen. When designing a current kitchen space, homeowners can consult this guide as a way to select the best countertops.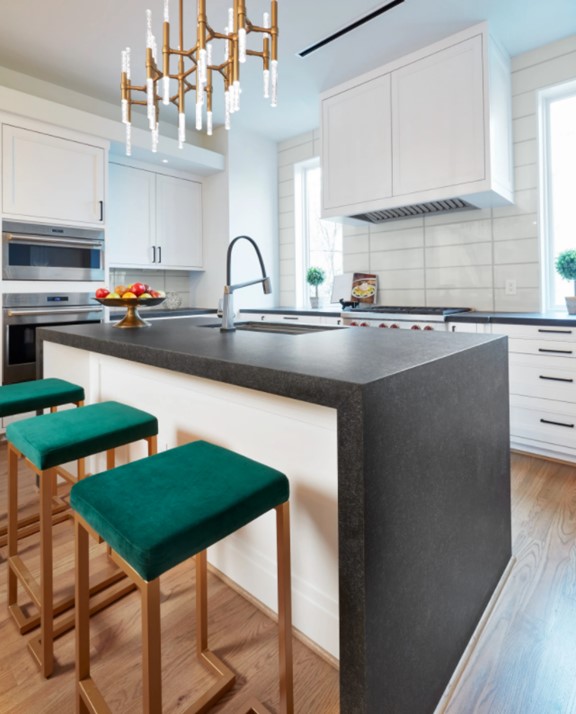 Image: Twill Black Satin Granite Kitchen Island Countertop from Arizona Tile
The Old View
We all know (perhaps a bit too well) the traditional solid black granite countertop. This design may feel overdone or outdated. Many older homes contain these countertops, and refreshing the space is essential to creating a comfortable and modern feeling. The good news is that black granite doesn't have to be dated. The classic black color, infused with mineral deposits that add character and depth to the smooth texture, is present in slabs like the Black Pearl Satin. This twist on traditional granite honors its origins while still updating the room.

Image: Black Mist Honed Granite Kitchen Countertop from Arizona Tile
Breathing New Life
Refreshing the classic granite countertop is a wonderful way to incorporate both modernity and timelessness into your remodel. Choosing a black slab with deposits of other colored minerals is a fantastic option for a contemporary countertop. Our Black Mist Honed slab is dotted with gold flecks that add a natural feature to the stone and draw in the eye. The overall pattern is reminiscent of stars in the night sky, with a comparable level of awe and beauty.
Using a black slab with natural patterning is also a great option for revitalization. Our Blizzard granite is well-suited for this. Bright white veins run through a gleaming black backdrop, creating a moving image akin to a rushing river or falling snow. This stunning design brings a timelessness to the room, while the stark pattern adds cutting-edge originality. As such, this slab is great for bringing in a traditional color scheme while adding a modern flair.

Image: Monte Cristo Granite Kitchen Countertop from Arizona Tile
Modern Granite Options
While revitalizing classic black is a great choice, modern granite offers many other options as well. A wide range of colors, patterns, and finishes among granite slabs are available. This broad selection ensures the contemporary piece you're looking for is waiting for you.
Varied Colors of Granite
Granite comes in a large variety of natural shades. Some slabs even have variations of color within them. Monte Cristo granite has a silvery-white background, but slabs with gold, yellow, and blueish tones are also common. This granite is perfect to incorporate within an earth-toned kitchen design as the different colors create a cohesive visual flow. 

Image: Desert Canyon Granite Kitchen Countertop from Arizona Tile
Desert Canyon is also an example of colorful granite. This stone has gold, blue, gray, and deep brown deposits, which will vary throughout the same slab. These colors move in veins across the stone, creating a vibrant and organic look.

Image: Silver Lennon Kitchen Island Granite Countertop from Arizona Tile
Versatile Patterns
As you can see, granite countertops don't have to be a boring block of solid color. Many modern granite options have gorgeous veining or grain patterns inside. These motifs are striking, add interest to the surface, and are similar to the appearance of marble or quartz slabs. Our Silver Lennon granite is ideal when searching for a slab with plenty of pattern and motion. This beautiful silver stone sometimes features sweeping veins while other blocks will have a more crystalline structure, bringing unique and timeless drama. The silver Lennon slabs are book-matched; meaning slab one and slab two will be cut and polished to create a mirror image of each other.

Image: Bianco Typhoon Granite Desktop from Arizona Tile
Bianco Typhoon granite also has a design woven inside. This cream-colored slab contains quartz and biotin deposits, which create depth and interest. It is also full of mica flakes, which makes the countertop sparkle in the light. These bursts of shine and color throughout the stone give it a bright, lively feel. Any of these beautiful granites will add excitement to your space.
The experienced team at Arizona Tile is here to make your renovation a success.  Our large supply of gorgeous countertop slabs are perfect for any design, and our team has the skill and knowledge to guide you through the process. From start to finish, browsing to installation, we will be by your side helping you perfect your home.
Also, our online Design Tools will aid you in picking out your countertops. These tools enable you to locate the nearest slab yard as well as visualize how each piece would look inside your home. Once you're ready, contact us to set up your first consultation appointment.