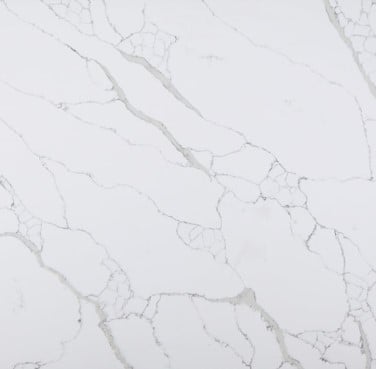 One of the most popular and timeless countertop materials in the home design world is white marble—and for good reason! Marble offers a classic look that complements a range of color palettes and design styles. The unique veining patterns of top marble varieties like Carrara and Calacatta add visual interest and a sense of luxury to any kitchen.
But if the maintenance requirements of natural stone have put you off, quartz countertops are a smart and stunning alternative that many homeowners love. Quartz is a so-called "engineered stone" that can be designed to beautifully mimic the appearance of sought-after natural stones like marble—including those varied vein patterns.
We can't get enough of the latest marble-look Della Terra ® Quartz slabs we have available. Let's take a look at our favorite new veined quartz varieties along with some ideas for incorporating them into your home.
For That Classic White Marble Look
If you're searching for a white quartz that closely emulates the look of real marble, Palmeri is a top choice. With its distinctive, sweeping grey veining in varying thicknesses, along with delicate webbed details, this quartz is almost indistinguishable from natural stone. Its white and warm gray palette is the perfect companion to an on-trend white kitchen with warm finishes.
For fans of Calacatta marble, look no further than Calacatta Maywood quartz. Subtle linear veins sweep across this white slab to give it a timeless quality inspired by classic marble.
For Bold Style
For marble-look quartz countertops that deliver a real and immediate impact, we can't get enough of Bertoli. This unique quartz packs a visual punch with well-defined medium-gray veins in a bold branching effect that pops against a sleek white background. If you want your counters to be the star of the kitchen, Bertoli's the way to go.
Bianco Levanto is another striking marble-inspired quartz that captures the personality of the real stone while having a spirit of its own. With bold, wide, diverging vein patterns that lend this quartz an artistic quality, your counters will be a guaranteed conversation piece. Pair it with gray cabinets and a white tile backsplash to help it shine and stand out.
For Softness & Subtlety
Not a fan of bold veining patterns for your countertops? No worries. Blanco Genova offers soft, diffuse gray details for a subtle yet trendy style. Get up close to see the beauty of its faint, organic pattern. This quartz is the perfect finishing touch for a minimalist kitchen design, or an ideal complement to a bolder backsplash tile.
When it comes to choosing the perfect quartz slab for your countertop project, seeing is believing. Come check out your favorite veined quartz counters in person at your nearest Arizona Tile showroom.