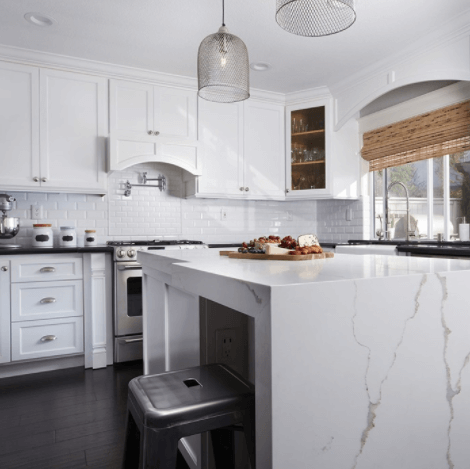 If you're in the market for the perfect slab for your latest remodel project, you may have heard of quartz, a man-made alternative to pricey natural stones like granite and marble. Available in a wide variety of beautiful colors, striking patterns, and distinctive textures, quartz slab are growing in popularity, and it's one home design trend we think is here to stay.
Do you want the elegance of marble in a material that's easier to maintain and still ? Whether you're looking for stylish countertops that complement your kitchen remodel or you want a durable floor tile option, quartz that looks like marble may be just the option for you.
Why Choose Quartz?
Durable and versatile, quartz can be made to resemble luxury natural stones such as marble. If you can't resist the classic look of polished white marble with that gorgeous gray veining, but you're looking for something that's a little easier to maintain, consider opting for quartz instead. The quality and durability of quartz is equal to marble, yet it requires less maintenance and is resistant to stains, making it an excellent choice for countertops, high-traffic floors, and more.
(Note: When shopping for slabs, just remember that quartz is not the same as quartzite; quartzite is a type of natural stone with a different appearance and characteristics. Learn more here)
Marble-Look Quartz Tile Options
Whether you're looking for quartz that resembles your favorite marble variety or you want something especially distinctive, there are a variety of options available. Here are some of our favorite quartz colors that mimic the appearance of marble:
New Carrara—This quartz looks like Carrara marble. It's a warm grayish-white with soft, feathery veining that blends in from a distance. It's the perfect choice if dramatic veining is too bold for your tastes.
Bella Statuario —Just like another popular Italian marble type called Statuario, this quartz is a smooth, near-white slab with large, sharp, prominent veins in dark gray.
Lyskamm—Bright white with a fine, intricate gray vein pattern, this option has a soft, chic look.
Portoro Supremo—If you want to stand out, go bold with black marble-look quartz. This unique, charcoal black slab with stunning veins in white and gold makes a beautiful bathroom floor or striking kitchen countertop.
Installing quartz countertops that look like marble is a great way to update your kitchen in style. No matter what quartz slab or tile you choose, any variety is sure to give your space that classic-yet-trendy marble look you've been dreaming of.
See how your home would look with quartz that looks like marble with the Just Imagine Visualizer from Arizona Tile.