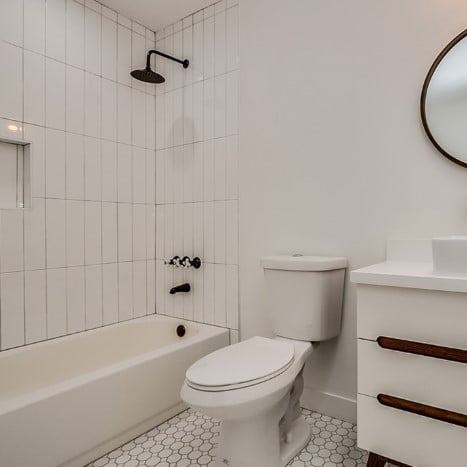 If you, like many homeowners, have a bathroom that's a bit on the small side, designing and decorating that space can be a challenge. You want to do whatever you can to make the most of your space and help your small bathroom appear larger. Sometimes that's easier said than done, but we're here with some tips on choosing the perfect tile design for your small bathroom.
Keep it Small or Go Big?
This might seem counterintuitive, but lots of small tiles on your bathroom floor or walls can actually make the room seem smaller. This is due to the multitude of grout lines that small tiles create, giving your space a grid-like look that can make it feel tight and closed-off. Instead, opting for a tile design with larger tiles can visually stretch that surface so it seems more expansive and open to the eye. However, this rule of thumb does have its limits—we recommend avoiding extra large tiles for a small room as they can have the opposite effect!
On that note, consider the shape of the tiles as well as their size. For example, if you want to help your bathroom appear longer, rectangle "planks" of wood-look porcelain are a good option. Vertical wall tiles can help the room appear taller and more open. Wide subway tiles on the shower walls can give it the appearance of being larger as well. If you like geometric tile, a Jumbo Hex tile is preferable to a smaller hex.
Pattern Problems
Now, let's talk patterns. In general, tiles with a busy pattern are best reserved as an accent piece in a small room like the bathroom. Busy, intricate patterns or busy tile arrangements involving many different colors can visually reduce the size of the room. So if you're looking for ways to make your small bathroom seem bigger, opt for solid colors or at least patterns that are larger and more open.
Blending
One other easy way to make your small bathroom look bigger with tile is by choosing the same tile (or at least the same color) for the floor and the shower, effectively blending them together. This helps visually extend the floor space of the room, making it appear bigger. On the other hand, if you choose a dark tile for your shower and a light-colored tile for your bathroom floor, it could have the effect of cutting the floor space in half.
Light Colors
Finally, lighter colors are a great choice for your bathroom tile design. This is because light colors like white and cream reflect more light around the room, which instantly makes it feel more open and airy. Dark colors absorb light and can make you feel boxed in if they're overused. Options like white marble-look porcelain or whitewashed faux wood are excellent choices for your smaller bathroom.
See all of the options that await your small bathroom with the Just Imagine Visualizer from Arizona Tile.