Jessica is an Arizona desert native who's returned to her roots after a stint in LA. Her new Scottsdale digs–the "orange home"– provides the canvas for her enterprising DIY spirit–she's constantly rearranging furniture, trying new recipes, hosting parties again (YAY!) and managing her full-time day job in sales and marketing. The orange home sports a terracotta brick facade, and a friend with a great sense of humor planted an orange tree in the front yard.  Jessica documents her projects and parties on her lifestyle blog, The Orange Home.
Jessica shares the orange house–a mid-century ranch–with Tyler (partner) and Tofu (dog/official mascot). She has completely embraced the esthetic of mid-century, but has added her own granny chic vibe for a laid-back yet elegant domestic aesthetic.
Visit Jessica's blog and instagram to view her other projects and get design inspiration.
Project Background
Jessica's first major project for the orange house was a kitchen facelift. She and Tyler decided that a full-on renovation did not make financial sense, a topic she addresses in her blog.
Jessica said "I made my house project list. But after doing some research, we learned the true cost of a kitchen renovation that made saving so much more achievable. I feel like people do not talk about costs of things as much as we should. Learning costs help you save and make it happen!"
This practical approach to their home improvement projects puts Jessica in a rare yet critical part of the style influencer universe–someone who cares about the money they're spending and makes sure it's a good long term decision. A stop in at Arizona Tile led to their decisions for their kitchen facelift.
Finding the right Materials
Jessica's vibe is a little bit modern and a lot organic, so she wanted a natural material for the project. Since lightening the visual appeal of the kitchen was the key factor, a white or gray color was the other consideration.
They found exactly what they were looking for with the Everest Quartz, part of Arizona Tile's Della Terra® Quartz collection. Everest looks like marble–a crisp white with grey veining–but maintains like the easy-care quartz material it is.
For years, granite reigned as THE countertop material of choice. Quartz is becoming more popular every year; it is harder and more durable than granite, and since it's an engineered material, designers can customize colors for their projects. Because a quartz countertop is not 100% stone —it's bound by a low percentage of polymer resin– this type of countertop isn't porous and is resistant to stains and scratches.
A Kitchen Facelift
The previous owners had installed black granite on the countertops and island, a look that was visually jarring and somewhat dated. After Jessica and Tyler did their research, they concluded that by simply replacing the existing dark, light-absorbing granite with a lighter color, the entire kitchen would look lighter, bigger, and more modern. The black pendant lights over the island look sleeker and updated with the new quartz countertop and waterfall.
The mid-century design style of the orange home is evident in the kitchen. The walls and cabinets are white, and the floors are a grey hardwood. That aesthetic complements the new design details like hardware and stainless appliances, and using open shelving softened the look for a cozier feel. What really made the difference was the island waterfall–by replacing the old countertop-on-cabinet-base construction with what looks like a single piece of quartz, the entire kitchen is, in Jessica's words, "totally up leveled to a custom home feeling while still feeling organic and homey".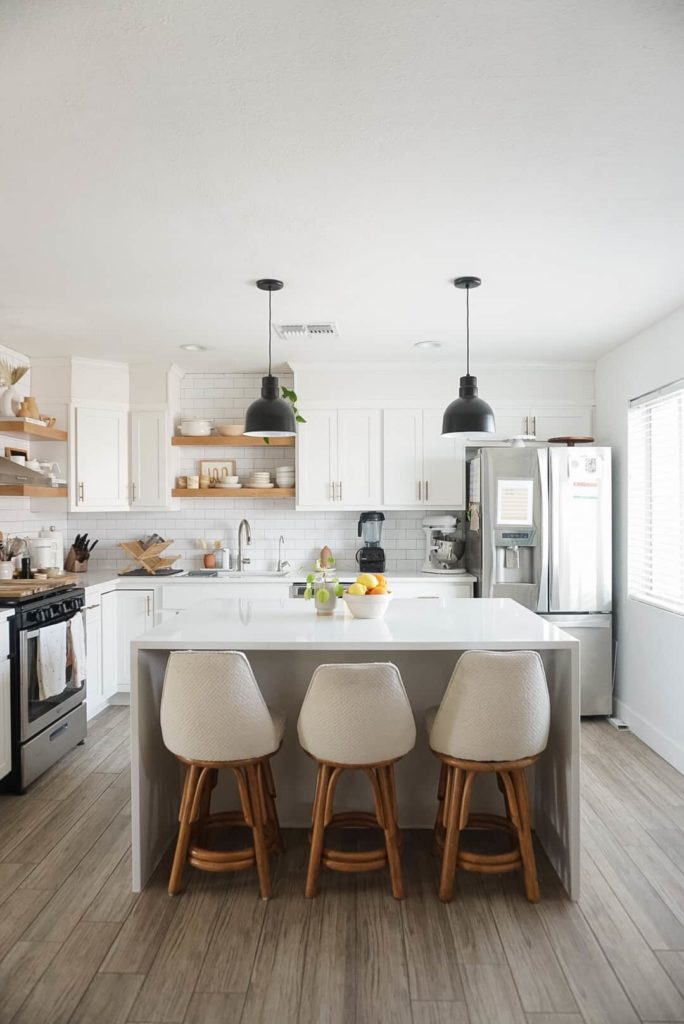 Why Arizona Tile?
Jessica notes that Arizona Tile in Tempe, AZ not only has an extensive showroom, but a discount slab location across the street chock-full of discontinued slabs. And as she points out, shopping for products that are already made is a sustainable way to update your home. Jessica is clearly crazy about her new quartz countertops, but she's equally effusive about the experience she had shopping at Arizona Tile, mentioning the extremely helpful staff.
If you'd like to use Arizona Tile to make your interior design dreams come true, feel free to contact us or stop by one of our locations today. Our top-notch and friendly staff would love to help you make selections that are both stylish and suit your budget.