Looking to make a small kitchen update that makes a big impact? Ring in the new year with a new, modern tile backsplash for your kitchen. The right backsplash can make your space shine, and sets the tone for the whole room. Let's dive into the top trends in kitchen backsplash designs for 2020.
1. White Hexagon Tile
If you love the look of a crisp, clean white backsplash for your kitchen, take it up a notch in 2020 by using hex tiles. These unique hexagon-shaped tiles are as subtle, versatile and modern as subway tile, but with a geometric twist that adds personality and visual interest. Turn up the volume and luxury with white marble-look hex such as our CS-Bianco Venatino Hex.
2. Mixed Finishes
Both matte and glossy finishes are proving on-trend in the new year. Keep it interesting and stand out from the crowd by mixing and matching glossy with matte in the same installation. With Concerto backsplash tile, you can achieve a contrasting look that is eye-catching and unexpected by alternating shiny and matte tiles or using one finish as an accent to the other.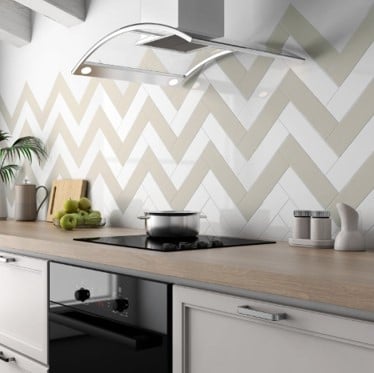 3. Chevron
Take a subway tile backsplash to new levels with a chevron tile design. If you love the timeless look of subway tile but are looking for something trendy with a little more character, installing the tile in a chevron pattern is a great way to achieve that. We especially love this look in two-toned Bare ceramic tile.
4. Natural Stone Mosaics
Marble may be the epitome of classic tile, but it's back on-trend and we can't say we're surprised. Chic, elegant and versatile, a marble mosaic backsplash could be the perfect update for your kitchen in 2020. For lovers of natural stone, mosaic designs like CS-Terra Nova deliver a one-of-a-kind and inviting look that instantly adds character to your space. Its neutral tone complements a range of kitchen color palettes, while each unique shape and pattern provides a touch of modern personality.
5. Unique Textures
Linen-look tile is an unexpected way to add visual texture and subtle style to your kitchen backsplash. Make a statement with this 2020 kitchen backsplash trend that delivers something truly unique with a textile-inspired design. Whether you prefer larger backsplash tiles or a mosaic design, Touch offers a range of sizes and colors to create a trendy, minimalist update to your kitchen.
6. Decorative Patterns
A patterned tile with a hand-painted look is a great way to upgrade your backsplash for the new year. Marrakesh, available in colorful and black-and-white options with either a matte or glossy finish, features a traditional-style pattern that's back on-trend in contemporary kitchens. Use it to bring a pop of color or an intricate, decorative touch to your backsplash.
These are just a few of our favorite trending looks as we move into 2020. Looking for more inspiration and ideas? With Arizona Tile, you can envision your new backsplash before making a commitment. Compare your favorite tiles and decide what's perfect for your space this year with our innovative Just Imagine Visualizer.